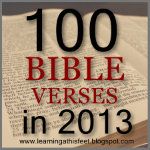 One of my goals for this year is to memorize Scripture, so I was very excited to find this very challenge on another blog. Shanna at Learning at His Feet is hosting this challenge. They are using the book 100 Bible Verses Everyone Should Know By Heart by Robert J. Morgan. I'm joining a little late, one week into the program, but I was happy to see that I already know the first two verses for this week:
Genesis 1:1 "In the beginning God created the heavens and the earth." (NIV) John 1:1 "In the beginning was the Word, and the Word was with God, and the Word was God."(NIV)
So, I'm going to go from here out and memorize with this challenge. Some of the verses are already familiar to me, but I think it will be good to review.
I will try to post each week to share how I've done for the week.